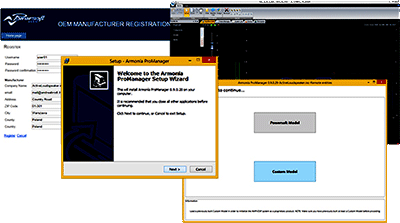 Promising 'a true plug-and-play solution for active loudspeakers', Powersoft's DigiMod Integration Kit (IK) provides the components necessary to design a complete, but simple system around any Powersoft DigiMod amp module.
Two aluminium heatsink plates, both equipped with PowerCon input and output, are available to accommodate even the most recent DigiMod PFC models, with a choice of two different DSP solutions including interface panels with I/O connectors, LEDs, programming and networking connections. Part of the DigiMod IK platform is Armonía ProManager software, which will configure any IK combination as well as make the final product accessible in the latest software version of the Armonía Pro Audio Suite (2.5.0) as a custom branded item. Purpose designed for the configuration of DigiMod IK Series modules, this tool is also compatible with the full range of Powersoft products.
The update has also been designed to offer improved functionality for the DigiMod DSP-D modules, since it features parameter setting control, preset banks management, group information and partial preset locking.
Assembly of the DigiMod IK requires three parts to be screwed together in order for OEM customers to develop their own line of active loudspeakers.
'The kit offers a great deal more flexibility than our previous DigiMod IS [Integrated Solutions] series, since rather than coming pre-assembled it enables the OEM customer to configure his own spec,' says Powersoft Pro Audio Business Unit Manager, Luca Giorgi. 'DigiMod IK harnesses all the power and quality of our modular DigiMod amp series, in a complete interface, equipped with XLR connectors for mono input + link output, volume potentiometers, status and meter LEDs. It is simply a case of selecting the required DigiMod unit, choosing the DSP solution that is most applicable and screwing the parts together.'
More: www.powersoft-audio.com