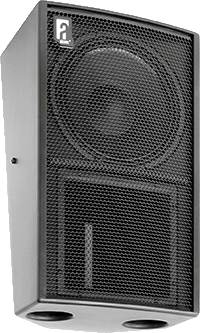 The Alcons Audio CRS12GT is a two-way passive-filtered loudspeaker, designed to meet all requirements of current and future Digital Cinema immersive surround sound formats. Featuring proprietary multiple-patented pro-ribbon driver technology, it uses identical MHF pro-ribbon transducers for screen- and surround systems to deliver a wide and uniform sound stage throughout the listening area.
Developed as high-output surround speaker in immersive surround systems, the CRS12GT is available with a 90° horizontal by 40° vertical dispersion (CRS12GT90) and with 60° horizontal by 30° vertical dispersion (CRS12GT60), for the surround locations closest to the screen channels. In combination with the 10° slanted baffle, the multi-faceted trapezoidal cabinet shape and the upside-down speaker arrangement, this enables a very precise projection on the critical listening area, while preventing wall and ceiling reflections.
The system comprises one RBN601 6-inch pro-ribbon driver for HF and a vented 12-inch mid-bass for LF. The HF section has 1kW peak power input, enabling a 1:15 RMS-to-peak dynamic range with lowest distortion from 1kHz to beyond 20kHz. The absence of a 'compression threshold' provides a linear tonal balance at any SPL.
All all-NeoDymium speaker configuration lowers the total mounted system weight and facilitates easier installation.
The CRS12GT can be driven by an Alcons ALC amplified loudspeaker controller. It is available in 8Ω and 4Ω ohms versions, for maximum amplifier efficiency in individually-amplified immersive surround systems.
For cinema applications with long speaker cables, the Signal Integrity Sensing pre-wiring circuit inside the ALC ensures cable/connector compensation between the CRS12GT speaker and ALC amplified loudspeaker controller, significantly increasing response accuracy, regardless of cable length and system impedance, with tight and accurate mid and bass response as result (system damping factor of 10,000).
The cabinet can be supplied in any RAL colour for interior matching.
More: www.alconsaudio.com