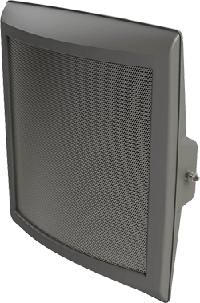 Danley Sound Labs has extended its OS Outdoor Series of fully-weatherised loudspeakers.
Although all Danley products are optionally available with level-2 weatherization, which includes fibreglass seams, stainless steel hardware, and protective coatings over all wooden components, these have a shorter life span outdoors than in an indoor installation. Instead, OS models are constructed of molded plastic with a custom injection molded shell claimed to last 50 years. The cabinet is sealed so the inner components are also protected from outdoor elements.
The OS-80's 80° conical coverage pattern will be joined by other OS models with a range of coverage patterns to meet the varying needs of outdoor situations. These will include the OS-90 and OS-100. In addition, the OS-115LF subwoofer will extend the bottom end of the OS line and the OS Nano will be the smalles in the range.
'Fidelity is excellent and distortion is remarkably low at all SPLs, and the OS-80 has the same highly-articulated coverage pattern and arrayability for which Danley is known,' says Danley Sound Labs President, Mike Hedden. 'What sets the OS-80 apart is that its construction and materials make it impervious to the weather for decades to come. Our local sources and molding machinery make it easy for us to turn over large Outdoor Series orders on short notice. Moreover, the molding process itself is very efficient, which allows us to sell the OS products at fiercely competitive prices.'
More: www.danleysoundlabs.com