QSC Audio Products has announced new loudspeaker models for fixed installation applications – the AD-S6T and AD-S112sw surface-mount loudspeakers are additions to the company's AcousticDesign Series, while the AC-C4T (part of the upcoming AcousticCoverage loudspeaker line) is a cost-effective, in-ceiling loudspeaker for voice paging and light background music applications.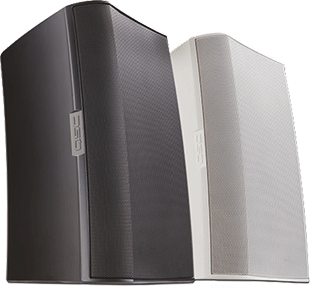 The AD-S6T is a 6-inch, two-way surface-mount loudspeaker featuring the QSC X-Mount system, while the AD-S112sw surface-mount subwoofer employs a long-throw 12-inch driver, with yoke-mount hardware to optimise boundary-coupling. Featuring Directivity Matched Transition (DMT) for 105° axisymmetric coverage, the AD-S6T is capable of 70/100V and direct drive operation using a multi-tap, low saturation 60W transformer with an 8Ω bypass. The AD-S112sw offers 8Ω operation only. Both feature an unadorned aluminium grille.
Intended for large distributed systems, the AC-C4T in-ceiling loudspeaker uses a 4-inch full-range transducer housed in a ported enclosure for low-frequency extension. It also features a low saturation transformer with multiple tap settings including an 8Ω bypass for both 70/100V and direct drive applications.
'Today's integrator is looking for a single solution system including loudspeakers and these new additions to the QSC loudspeaker lineup helps fulfill that growing need,' says QSC Product Manager for Install Loudspeakers, Travis Nie. 'With the continuously growing acceptance of the Q-Sys platform and PLD/CXD amplifiers both of which feature Intrinsic Correction processing, advanced voicing filter sets can be applied enabling integrators and their customers to get optimum acoustical performance from these new models as well as the rest of the QSC loudspeaker line.'
More:
http://qsc.com