Meyer Sound has announced the self-powered HMS-15 surround loudspeaker, the most powerful in its line of surround-sound loudspeakers.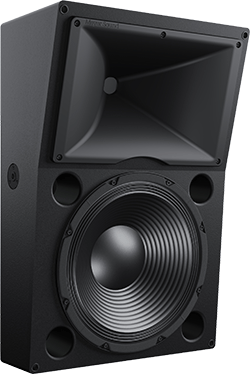 The HMS-15 is designed for high-power, longer-throw applications in cinema exhibition auditoria, and for use in postproduction and screening rooms. As well as 5.1 and 7.1 rooms, the HMS-15 is also suited to immersive formats such as Dolby Atmos and Barco Auro. Although intended primarily for cinema applications, the HMS-15 can also serve theatrical productions and 'spectaculars'.
The box houses a 15-inch long-excursion LF driver; a 3-inch diaphragm compression driver coupled to a consistent 80° H x 50° V horn; and two-channel amplification with active crossover, driver protection, and correction for phase and frequency response. It offers a frequency range of 50Hz-18kHz and a maximum peak SPL of 133dB (@ 1m) with very low distortion.
The HMS‑15 can be mounted on walls or ceilings at fixed or adjustable angles with the optional wallmount brackets or U-bracket, adapting easily to the physical requirements of any surround or immersive sound format.
The loudspeaker is available in two models. The 48V DC version, HMS‑15, is powered by the MPS-488HP external power supply, which eliminates the need for wiring conduits while preserving the advantages of self-powered, bi-amplified loudspeaker systems.
'The HMS-15 was specifically designed for the extreme demands of today's dynamic, multichannel immersive sound formats,' says cinema products Technology Director, Steve Shurtz. 'Mixers can now move music and other sound elements off the screen, while still keeping the sound ethereally in front of the audience with undiminished clarity and impact. This opens up the screen for more distinct dialog and sound effects.'
The HMS-15 joins a full line of Meyer Sound cinema surround loudspeakers that also comprises, in descending size, the HMS-12, HMS-10 and HMS-5. It begins shipping in July 2014, and the 48V DC-powered HMS-15 in October 2014.
More: www.meyersound.com