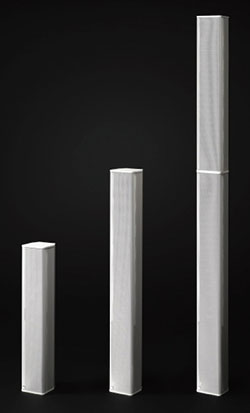 d&b audiotechnik has added the xC-Series series of column loudspeakers to its White range of integration solutions.
Joining the xS-Series and xA-Series, the xC-Series comprises the 16C, 24C and 24C-E models, which are designed for use in difficult acoustic and aesthetic environments, including houses of worship, conference halls, auditoria and public spaces.
The xC-Series ses high vertical directivity control to focus output and reduce energy radiated into the reverberant field. The two-way, passive 24C has a nominal dispersion of 90° x 20° (h x v) with a HF array that can be mechanically adjusted continuously between 0° and -14° in the vertical plane. This is combined with an LF section comprising six 4-inch drivers producing a beam with a fixed downward tilt of 5° and significant vertical dispersion control down to 370Hz. The 24C-E extension, with a further six 4-inch drivers, can be attached directly to the 24C, increasing vertical pattern control down to 190Hz without any additional amplification or processing.
The smaller 16C houses four 4-inch drivers and a 0.75-inch compression driver mounted on a CD horn, producing a nominal dispersion of 90° x 40° (h x v). The 4-inch drivers are arranged in a cardioid pattern, radiating through waveguide elements at the front and damped ports at the rear of the cabinet. This design provides a constant directivity pattern in the horizontal plane with a broadband attenuation to the rear of approximately 18dB. This pattern produces minimal energy behind the loudspeaker, reducing reflections and increasing gain before feedback when working with open microphones. A specifically designed bracket can be attached to rails on the rear of xC-Series cabinets, enabling flat and parallel mounting to a wall. All xC-Series loudspeakers and available accessories can be colour matched to interior requirements.
The xC-Series is the first column loudspeaker design developed by d&b: 'When looking at the typical applications where these types of products are being used, the determination was to provide a simpler solution for (sometimes) complicated issues, by improving column loudspeaker design in a d&b way,' says White range Product Manager, Marcus Bäumler.
The xC-Series can be driven by the D6, D12 or D80 amplifiers, which provide three different power ranges, incorporate d&b loudspeaker specific information and have analogue and digital signal inputs and links. These amplifiers feature d&b Remote network interfaces, providing control and monitoring of system functions via the d&b R1 Remote control software platform and connection to other multimedia environments. This provides extensive system integration capabilities.
More: www.dbaudio.com