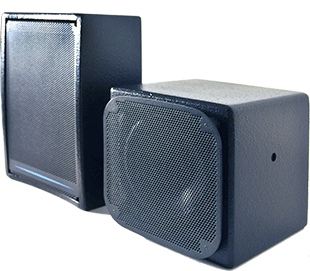 French loudspeaker manufacturer APG has added the MX0 installation speaker to its line of micro-format 5-inch coaxial loudspeakers.
Following the uptake of the DX5 loudspeaker by a number of major rental companies for stage monitor and FOH use, the MX0 offers the same performance in a format that targets the installation market.
Designed for ease of installation, the MX0 may be stand-mounted or wall- or ceiling-mounted using the optional ETMX0 bracket, or placed on a suitable surface. It comes with Phoenix connectors as standard, and is also available in 70/100V line version. It's reduced form factor and very wide dispersion (100° above 10kHz) enables extended coverage with a minimal number of speakers.
Applications include vocal reinforcement such as conferencing, as well as background music and in-fill (delay, front fill, side fill, surround sound/effects). It can be combined with subwoofers to enhance its performance in venues such as hotels, restaurant and home cinemas, as well as public places including museums, retail outlets and multimedia venues. The MX0, like DX5, is available as standard in either black or white at no extra cost.
More: www.apg.tm.fr