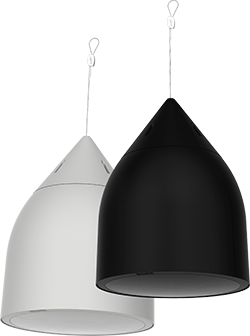 Community Professional Loudspeakers has expanded its Distributed Design Series of ceiling, surface-mount and pendant loudspeakers with the addition of the DP8 Pendant.
Available in paintable white or black, the DP8 is a high-performance, 8-inch coaxial loudspeaker with a tapered shape designed 'to complement the design of modern open-architecture environments and provide highly-intelligible voice and great musical sound quality'. It is intended for use in restaurants, lounges, hotels, ballrooms, meeting rooms, retail and commercial establishments, and casinos, hotels and convention centres. Its weather-resistant enclosure, grille and components, also allow use outdoors in covered locations.
The DP8 uses the Distributed Design Series' Uniform Voicing – a design that promises identical acoustic performance from all same-size pendant, ceiling and surface-mount loudspeaker models in all spaces, regardless of the loudspeaker type. With Uniform Voicing, patrons moving from space to space would hear little or no change in music or voice quality.
The DP8's shared coaxial transducer features a separate compression driver coupled with Community's proprietary Tru-Phase waveguide and mounted to an 8-inch woofer with Community's Carbon-Ring Cone technology. This combination is designed to offer a high-performance loudspeaker with high power capacity, a wide, smooth dispersion pattern, high sensitivity and extremely low distortion.
For system designers and installers, the DP8 is ETL listed to comply with UL1480. It includes a 120W autoformer with easy-access tap switch for 70V/100V distributed systems and features a simple suspension and wiring system inside its integrated rear cover. Two Distributed Design Series subwoofers, the DS8Sub (surface-mount) and DS10Sub (ceiling-mount) are available to bring enhanced warmth to a DP8 musical sound system.
More: www.communitypro.com