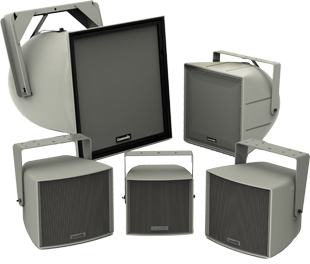 Community Professional Loudspeakers has added eight models to its premiere R-Series line. Three new compact models, the R.15Coax, R.35Coax and R.35-3896, give systems designers additional coverage patterns and higher output, and are accompanied by the R.5-66Max, R.5-96Max, R2-64Max, R2-66Max and R2-94Max.

The R.15Coax and R.35Coax use identical 1.25-inch exit HF compression drivers, along with Community's Tru-Phase phase-plug and Carbon Ring Cone woofer technology, allowing the LF drivers to exhibit cone areas up to 20 per cent larger than standard woofers of the same diameter. Both models feature front-loaded LF drivers – 6.5-inch in the R.15Coax and 10-inch in the R.35Coax – in highly reinforced enclosures, while identical voicing across both models ensures a uniform sound character. The dynamic R.35-3896 is a triaxial 8-inch Carbon Ring Cone loudspeaker featuring Community's MultiSource Waveguide technology, integrating the output from dual midrange compression drivers and a 1-inch exit HF compression driver into a single coherent source. Fully passive, it is voiced for flat musical reproduction without EQ, and claims class-leading SPL for a loudspeaker of its size.
'In addition to the great musical performance of these new compact models, the most obvious visual difference is the sleek new paintable ABS enclosure,' says Community Director of Product Marketing, Chris Barrow. 'It is visually superior and offers more flexibility while costing less to produce. That allowed us to invest in better audio components for exceptional performance without driving up the price.'
The new R-Max loudspeakers feature premium 1.4-inch exit HF drivers and 600W neodymium woofers. R-Max delivers well-behaved coverage patterns, flat frequency response, high intelligibility and high broadband output.
'The R-Max products are the best sounding R-Series loudspeakers we have ever produced,' Barrow says. 'Past R-Series were acknowledged for their high output and voice intelligibility. R-Max demonstrates the type of premium music performance that Community is capable of delivering. These loudspeakers can hold their ground against products costing two or three times as much. R-Max are not just great outdoor loudspeakers, they are great loudspeakers period.'
More: www.communitypro.com