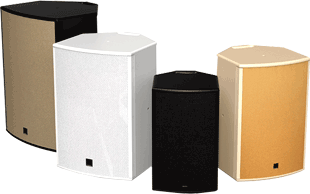 Amadeus has relaunched its UDX Series passive speakers, 30 years after its introduction. The line now included four models for sound reinforcement applications in concert halls, auditoria, conference rooms and theatres. While designed for fixed or long-terminstallation, UDX systems can also be used in touring applications as a stage monitor when fitted with optional accessories.
'The idea behind the UDX Series is to keep the focus that has given Amadeus its reference-quality status throughout the years, allowing transparency between the installation space and the speaker,' says Amadeus Marketing Manager, Gaetan Byk. 'We wanted to concentrate on the essentials and go back to our roots, in terms of both sound transparency and finishes. Allowing designers to combine several standard colours of cabinet and acoustical fabric coverings on the front grille, they can put the most efficient and elegant product into a space, matching its cultural, visual and architectural context. This new product direction brings the Amadeus quality to a new customer base.'
Sold from 1980 to 1992, the first UDX speakers used the best technologies and innovations of the Atelier 33 Company and its electro-acoustical department, 33 Audio. The heart of the UDX Series system is a coaxial neodymium transducer, designed to give uniform angular coverage and high acoustical load, and to reduce all forms of distortion and colouration at all input levels.
The UDX 8 and UDX 10 systems use a coaxial 8-inch, or 10-inch woofer respectively and 1-inch tweeter with compression driver. The UDX 12 and UDX 15 systems use a 12-inch or 15-inch woofer and 2-inch compression driver. Each of the UDX Series speakers integrates with the Amadeus ML 15 and ML 18 subwoofer systems.
With a standard black (water-soluble) paint finish, the UDX systems are also available in several different standard colours. They can also be ordered in a custom finish based on registered or non-registered colours and/or materials. The acoustical fabric covering the front grille can also be customised.
Each speaker system is equipped with two threaded inserts (M8), allowing stand mounting using optional screw-on adapters from Konig & Meyer. Alternatively, they can be pole mounted on a subwoofer such as the Amadeus ML 15 or ML 18 subwoofer systems, which are equipped with a threaded insert (M20) on its top side.
The sides and the upper, lower and rear panels of the UDX Series systems are all equipped with M8-threaded inserts, compatible with Amadeus U-Brackets and Konig & Meyer wall mounts, allowing the speakers to be fixed to a wall or ceiling.
Designed to compensate for the influence of free field conditions when the systems are used in a standalone mode, or to compensate for the effects of floor loading, Amadeus offers standard presets that are compatible with all well-known digital crossovers, including XTA, Xilica, Lake and BSS processors.
The newly redesigned UDX Series are now available from licensed Amadeus distributors and dealers throughout Europe and Asia, priced from €1,090 to €1,990 (VAT excluded).
More: www.amadeusaudio.fr