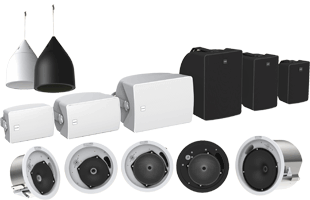 Community Professional Loudspeakers has announced its Commercial Design Series, a family of ceiling, surface-mount and pendant loudspeakers for installations requiring high performance at a competitive price.
The models in the range offer a choice of 4.5-inch, 6.5-inch and 8-inch driver sizes, promising high speech intelligibility and reliability, and featuring uniform sound quality and consistency from model to model.
The Commercial Design Series was designed to complement Community's Distributed Design family of high-performance ceiling, surface-mount and pendant loudspeakers in a combined installation. For this reason, Commercial Design uses many of the same technologies as Distributed Design, including real compression drivers and Tru-Phase phase plugs for high output and low distortion. Commercial Design ceiling models also have labour-saving features like Community's Drop-Stop technology.
All models feature Euroblock input connectors, Community's external loop-through wiring design, weather-treated drivers and corrosion-resistant dual-layer powder-coated grilles. Commercial Design ceiling models are ETL listed to comply with UL1480, UL2043 and CSA60065, and the pendant model conforms to UL1480 as well. Surface mount models have passed compliance testing for MIL-STD-810G and include a low-profile, multi-angle pan-tilt mounting bracket for aiming over a broad pan-tilt range.
All Commercial Design models can be painted to match room décor and are equipped with a built-in autoformer for selectable 8Ω or 70V/100V operation.
More: www.communitypro.com