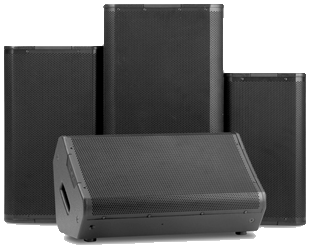 QSC Audio Products has launched the AcousticPerformance line of two-way, full-range loudspeakers, aimed at installed sound reinforcement applications requiring high SPL and stylish enclosures.
AcousticPerformance models may be used in passive (full-range) mode to minimise amplifier channel count or bi-amp mode for greater control and performance. To further enhance performance, bi-amp and full-range tunings using QSC Intrinsic Correction techniques are available for Q-Sys and future QSC products.
All models feature a 3-inch voice coil, high power-capacity compression driver combined with high-output woofers to deliver exceptional full bandwidth reproduction. They also offer M10 mounting points for rigging with eye-bolts, as well as mounting points for an (optional) yoke bracket. The AP-5122m multi-purpose enclosure features a 40° angle for floor monitor use, and a pole cup for mounting on a loudspeaker stand. The enclosure and terminal input cup on the AP-5122m have been designed to facilitate the cable runs for a clean appearance on stage.
AcousticPerformance grilles are unadorned, eliminating the need to cover-up logos, which can be difficult to hide or remove. The grille is also lined with acoustically transparent backing, adding to the enclosure's professional appearance. AP-5102/5122/5152 models are available in black (RAL 9011) and white (RAL 9010) finishes. AP-5122m is available in black only. To minimize impact and disposal fees at the job site, all AcousticPerformance loudspeakers are packaged in environmentally friendly, recyclable cartons.
Key features:
· DMT (Directivity Matched Transition) ensures smooth, coherent power response across the listening plane
· 3-inch diaphragm compression delivers a clean and powerful high frequency response
· M10 fittings and yoke mount fittings offer flexible deployment options for a variety of applications
· NL4 Speakon connector and covered barrier strip terminals*
· Bi-amp/passive switchable
· Constructed from 15-ply Baltic birch plywood
· 16-Gauge powder coated steel grilles
· Complete EASE, CAD and BIM information available online
'In keeping with QSC's loudspeaker design philosophy, all AcousticPerformance loudspeakers feature Directivity Matched Transition (DMT) which matches the compression driver to the natural coverage angle of the woofer in the cross-over region', says QSC Loudspeaker Product Manager, Phil Sanchez. 'When combined with their axisymmetric waveguides, AcousticPerformance loudspeakers deliver a flat power response with smooth and accurate sonic reproduction and remarkably consistent coverage both on and off-axis.'
More:
http://qsc.com