Fohhn Audio has released the Focus Modular line of electronically steerable, active line array systems.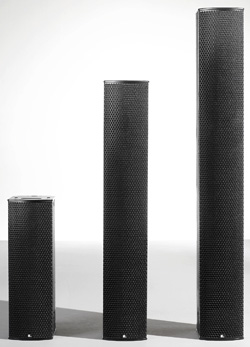 The Focus Modular series comprises three active systems – the FM/FMI-100 high-frequency module, containing eight 1-inch compression drivers with Fohhn HF Waveguide and horn; the FM/FMI-110 high-frequency module containing 16 1-inch compression drivers with HF Waveguide and horn; and the FM/FMI-400, a low-mid module equipped with 32 4-inch long-excursion speakers.
The systems feature multichannel class-D amplifiers and multichannel DSP processing for beam steering capability. A second DSP provides access to a range of audio tools including parametric 10-band EQ, compressor/limiter/noise gate, delay, crossover, status and temperature monitoring, and tone generator (sweep tone and pink noise). A further DSP contains an algorithm designed to give maximum protection to each individual speaker. This particular combination of loudspeaker, amplifier and DSP technology enables the Focus Modular series to achieve maximum SPLs of 139dB (FMI-400), 142dB (FMI-100) and 148dB (FMI-110), measured at a distance of 1m. The modules can be combined and cascaded for a range of applications using Fohhn's Quick-Lock system.
The new modules incorporate the beam steering technology used in Fohhn's Focus Series family, including precise real-time adjustment (in 0.1° increments) of the speakers' vertical sound inclination angle (±40°) and vertical beam width (0°-90°). Dual-beam technology enables simultaneous coverage of different audience areas. A digital high-pass filter can be separately applied to each beam, and the acoustic centre of the individual beams adjusted in real time and set at any point of the loudspeaker's line length. A DSP algorithm also enables the suppression of any unwanted side lobes in the beam. The systems can be networked and remotely controlled in real time via Fohhn's Audio Soft control software.
Focus Modular systems have been developed for mobile and permanent install projects in theatres, concert halls, airports, cathedrals, conference centres and other public spaces. The loudspeakers' slim, design enables them to be mounted flat against a wall, or installed within the wall itself. The systems can be supplied in a full range of RAL colours to blend with interiors.
More: www.fohhn.com