Grund Audio Design has released the VIP Series of loudspeakers – four models (three of which are three-way designs) claiming the highest SPL sensitivity in their class for A/V installed sound and A/V presentation.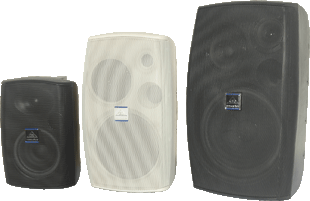 The series comprises the VIP-06, VIP-08, VIP-10, and VIP-12 models, all passive designs with high power capabilities and injection moulded enclosures.
The smallest enclosure in the family, the VIP-06 is a two-way design with a 1-inch HF dome tweeter coupled with 6.5-inch cone LF transducer, giving a 68Hz –20kHz frequency range.
The VIP-08, VIP-10, and VIP-12 loudspeakers are all three-way designs for improved speech intelligibility. The midrange transducer in each model features a 5-inch cone with a 1-inch coil in a quasi-horn loaded design. All models feature 1-inch HF dome tweeters, while for LF reproduction the VIP-08 uses an 8-inch cone transducer, the VIP-10 a 10-inch cone transducer and the VIP-12 a 12-inch cone transducer. The frequency range for the VIP-08, VIP-10, and VIP-12 is, respectively, 45Hz-18kHz, 40Hz-18kHz, and 38Hz-18kHz.
The cabinets have four M6 integrated flypoints making them easy to position in installations, including restaurants, presentation facilities, classrooms, and secondary areas in houses of worship. Additionally, there is an optionally available wallmount bracket. To protect the transducer complement, the VIP series uses powder-coated steel grilles.
The VIP-06, VIP-08, and VIP-10 loudspeakers are available in both black and white while the VIP-12 is available in black. The name badges on the front of the enclosures rotate for vertical or horizontal positioning. All models are available in mirror imaged pairs for stereo reproduction.
'The most notable difference of a three-way architecture, as opposed to the more common two-way design, lies in the loudspeaker's ability to reproduce a far more natural midrange,' says Frank Grund, President of Grund Audio Design. 'Since the human voice falls into this frequency range, the result is noticeably improved speech intelligibility and more natural vocal reproduction overall. Further, the LF transducers on all models are heavy duty designs with large voice coils that deliver a full, rich-sounding low end. I'm confident installation professionals will find much to like.'
The Grund Audio Design VIP series loudspeakers are now available with MSRPs of VIP-06 US$179, VIP-08 US$299, VIP-10 US$379 and VIP-12 US$439. The MSRP for the optionally available model 75-408 wall mount bracket for the VIP-06 is US$35, while the 75-410 bracket for the VIP-08, VIP-10, and VIP-12 is US$49.
More: www.GrundAudio.com