Community Professional Loudspeakers has released the second generation of its Veris (VERsatile Installation Systems) Series for installed sound reinforcement and playback applications such as concert halls, theatres and auditoria, restaurants, pubs, health clubs and houses of worship..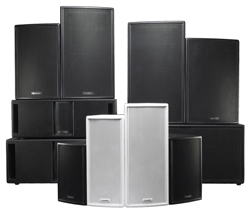 Veris 2 is an expanded, evolved collection of 11 Veris models, from small-format enclosures for distributed systems, fill and delay applications to mid-sized three-way systems designed for front-of-house performance.
The release brings significant enhancements to the series, including newly designed 1-inch exit HF drivers and a re-engineered grille design. All models offer improved crossovers, with individually voiced crossovers on 64° and 96° models. All smaller Veris models come standard with a fully rotatable square horn.
Community has also added a subwoofer to the line – the V2-215S dual 15-inch model.
Four compact models include single and dual 6-inch and 8-inch enclosures designed for surface mount or distributed systems. The larger Veris 2 systems include two-way and three-way models with 12-inch or 15-inch woofers. Larger models are designed primarily for sound reinforcement and playback in mid-sized to large spaces, and are available in multiple coverage patterns for short, mid and long-throw applications.
Completing the new Veris 2 line are three versatile subwoofer systems, ranging from the compact V2-210S dual 10-inch to the V2-212S dual 12-inch and powerful V2-215S dual 15-inch subwoofer for larger venues.
All Veris 2 models are available in black or white finishes, and are equipped with threaded mounting points, making them compatible with the full range of accessory brackets available for the original Veris series. Also available for Veris 2 is the new Vertical Yoke Bracket that enables precise vertical aiming of all full-range Veris 2 loudspeakers.
'We introduced the original Veris Series in 2007, and it has been one of our most well-received and successful lines,' says Community Director of Sales & Marketing, Julia Lee. 'Veris 2 continues the Veris legacy of versatility, performance, and elegant design.'
More: www.communitypro.com