JBL Professional has released the AWC Series of compact, all-weather loudspeaker systems for outdoor applications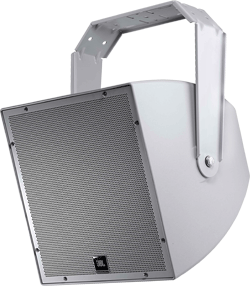 The AWC82 is a very compact, 8-inch, two-way coaxial speaker with compression-driver high frequency, wide 120° x 120° coverage and 250W power handling. The AWC129 is a 12-inch, two-way coaxial speaker, also with compression-driver high frequency, focused 90° x 90° coverage, and 400W power handling. Both speakers can be operated as direct low-impedance (8Ω) or on a 70V or 100V distributed line via built-in 200W low-saturation, multi-tap transformers.
Components feature Kevlar reinforced low-frequency drivers and proprietary high-frequency compression drivers and high-temperature polymer diaphragm for high output levels with low distortion. Enclosures come in light gray or black and are paintable to match the requirements of the application
AWC components are highly weather-treated and a three-layer grille with vapor-barrier backing minimises direct rain contact with the system transducers. The recessed terminal compartment is protected by a panel cover and a water-tight gland nut fitting. A U-bracket is included. The system's IP-56 outdoor rating and wide, smooth frequency response makes JBL's AWC speakers ideal for projects such as racetracks, school stadiums, theme parks, fairgrounds, skating rinks and swimming facilities, as well as for arenas, general public address and a variety of other indoor and outdoor applications.
'The high power 8-inch and 12-inch low-frequency drivers, derived from JBL's Control 328 and Control 322 high-power, large-format, in-ceiling systems, combined with a new generation of compression driver, utilize the internally contoured pole piece and the entire driver cone to form a large diameter waveguide for the high frequencies,' said Rick Kamlet, Senior Marketing Manager, Commercial Installed Sound, JBL Professional. 'Those factors, along with high-slope crossovers, provide exceptionally consistent pattern control from a very compact system. These coaxial drivers allow these speakers to be extremely compact while really packing a punch in both sound level and audio quality.'
More: www.jbl-pro.com