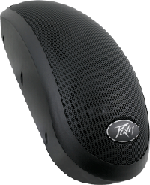 Peavey has released the Impulse 261, a two-way loudspeaker system intended for use in permanent sound and A/V installations.
A wide-range high-output speaker, the Impulse 261 is primarily designed for bars and restaurants, where music clarity and aesthetics are a primary importance.
With two 6.5-inch woofers and 1-inch titanium dome tweeter mounted on a waveguide, the system is capable of controlled coverage and high-quality reproduction.
Claiming low distortion and high reliability, the weather reistant cabinet is loaded with dual 6.5-inch high-performance woofers and a 1-inch metal dome tweeter with a Neodymium magnet. Connection is via a locking Euro (Phoenix type) connector with screw terminals. It is also transformer equipped, with 70.7V and 100V taps as well as an 8Ω thru connections.
The drivers are protected from overload by independent circuits for the woofer and the tweeter.
The vented cabinet is made from injection-molded ABS plastic (black and white options available). It has a perforated powder-coated metal grille, and a wide aiming mounting bracket is included.
More: www.peavey.com