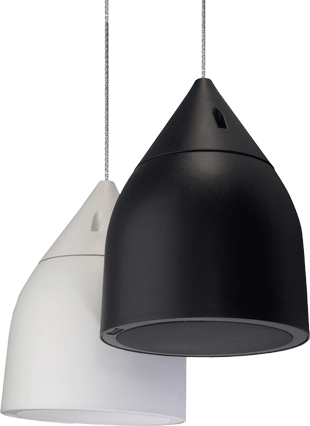 Community Professional Loudspeakers has extended its Design Series of ceiling and surface-mount loudspeakers.
Featuring identical componentry to the D6 ceiling model, the DP6 pendant loudspeaker claims the sound quality, intelligibility and performance that has established the Distributed Design Series among installed sound professionals.
A true coaxial loudspeaker with an HF compression driver, the DP6 uses Community's proprietary Carbon Ring Cone Technology and Tru-Phase high-frequency waveguide for consistent, wide dispersion up to 16kHz. Uniform voicing allows the range of Distributed Design ceiling, surface and pendant mount loudspeakers to be combined in a single installation with consistency from zone to zone.
The DP6 is equipped with a built-in autoformer, allowing the loudspeaker's full output and performance to be used with 70V or 100V distribution lines. An easily accessible selector switch on the face of the loudspeaker makes it simple to choose between 8Ω or 70V/100V operation, while the integrated rear cover conceals wiring and hanging hardware for a clean, aesthetically pleasing installation. Two 15-ft (4.5m) tensile galvanised steel wire rope suspension cables with integrated spring clips are included.
Available in standard black and white finishes, the Distributed Design DP6's contoured, contemporary pendant form factor is ideal for restaurants, bars, hotels, ballrooms, casinos, retail and commercial establishments, meeting rooms, convention centers and any other open architecture environments.
More: www.communitypro.com