Community Professional Loudspeakers has extended its VLF Series of Versatile Low Frequency systems with the dual 8-inch VLF208LV, the single 15-inch VLF115 and the single 18-inch VLF118 models.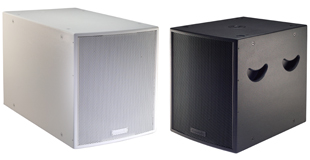 The VLF208LV, a dual 8-inch in a larger volume enclosure than the ultra-compact VLF208, is designed for applications that require the low frequencies from a slim-profile design. The birch-ply enclosure measures 10" x 21.75" x 21.75", and has a frequency response down to 40Hz (-3dB), an operating range up to 30Hz (-10dB) and 1kW programme handling. Its low velocity port design extends the response while eliminating air noise through the heavy duty 16-gauge steel perforated grille.
The VLF208LV is available in both portable and installation versions. The portable version includes built-in handles and a pole mount socket, while the black and white installation models incorporate multiple M10 hang points. Both are available in black or white and an optional bracket is available to hang the installed version in a steered array.
The VLF115 and VLF118 models offer half-space sensitivity of 98dB. The VLF115 handles 1.5kW programme with an operating range of 25Hz- 1kHz, while the VLF118 handles 2kW programme with an operating range of 26Hz-1kHz.
The VLF115 and VLF118 are available in portable and installation versions, each with four M10 hang points on the top, bottom and sides of the cabinet for use in either horizontal or vertical configuration. The included rubber feet can also be screwed into the four hang points on any side. Black, white and unfinished versions are available as standard and custom colors are available as a configure-to-order option.
The family of VLF subwoofers is designed to complement Community's front-of-house loudspeaker systems in applications including theatres, music venues, clubs, restaurants, auditoria, houses of worship, schools and other fixed install or portable applications.
More: www.communitypro.com