Monitor Audio Group has announced a new THX Certified cinema loudspeakers system comprising the Cinergy 100, 200 and 300, along with the Cinergy Sub15.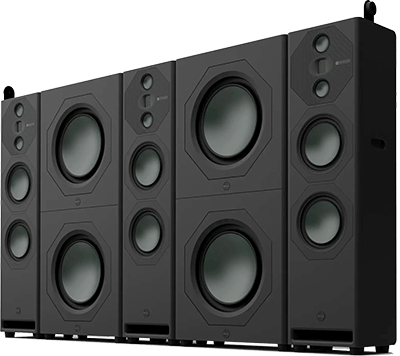 With installers' needs in mind, Cinergy has been designed with the knowledge that no two installations are the same. Features include a modular design that rotates when required, allowing both horizontal and vertical installation. It also includes a choice of isolation and fixing methods. Flexible options allow for integration into stud walls, fitting onto walls or securing to the floor.
Installers can rotate the mid-tweeter array on the Cinergy 100, 200 and 300, depending on whether they are vertically or horizontally installing the product. Cinergy also allows the mid-tweeter pod to be interchanged with the bass drivers on the Cinergy 300. Along with integrated handles, Cinergy features feet and bracket isolators to reduce vibration.
THX Certification assures installers and their end-users that Cinergy will deliver an ultimate cinema audio experience. This does not simply mean a set of measurements done on a computer or in a lab as THX Certification is done using the dynamics of real-world listening.
The Monitor Audio Cinergy 100 comes assembled with recommended port bungs, which are easily removable to tailor the bass response along with EQ profiles for use with Monitor Audio IA amplifiers. The 200 features the same slim profile and integrated wall brackets as Cinergy 100. Inside, two mid-range drivers double the power handling, improve efficiency and reduce reflections from ceilings and floors. The largest loudspeaker in the range, the Cinergy 300 uses the company's latest mid-range driver technology.
The Cinergy Sub15 can be installed in a wall or used floor-standing. It is designed for use with Monitor Audio's IA800-2C amplifier, with EQ profiles available to be downloaded from the Monitor Audio website. To achieve THX Certified Ultra specification, a Cinergy systems require a pair of Cinergy Sub15s paired with at least one IA800-2C.
More: www.monitoraudio.com