JBL has announced the GSF3 and GSF6 Garden Ground Stake full-range landscape loudspeakers, and GSB8 and GSB12 Garden In-Ground Subwoofers.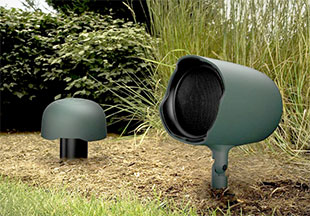 The compact, weather-resistant GSF Garden Full-Range landscape speakers provide fidelity and directable coverage for a wide range of outdoor applications. The GSF3 is a full-range two-way coax loudspeaker with a 3-inch low-frequency driver plus a tweeter. The GSF6 is a higher output two-way wide bandwidth coax, with a 6-inch low-frequency driver and tweeter.
In addition to the ground stake (which presses into the ground), the GSF3 and GSF6 include a versatile L-bracket to secure to horizontal surfaces such as decking, or vertical surfaces such as the sides of buildings and posts.
The JBL GSB8 and GSB12 In-Ground 8-inch and 12-inch Landscape Subwoofers augment the low-frequency performance of GSF full-range landscape loudspeakers to provide full-range sound in lawn and garden areas of hospitality, theme park, corporate and retail spaces.
The GSB8 and GSB12 provide extension down to 35Hz and a steep, multiple-slope low-pass filter. A premium-grade, 100W subwoofer-band transformer allowsuse in 70V/100V systems, or they can be connected for low-impedance direct operation.
'These sleek, ultra-low-profile speakers install underground, with only the audio port visible,' the company says. 'The chamber is oriented directly below the audio port to prevent accidental damage from landscaping, which can be a problem with side-located chambers. Grab handles allow easy installation and tabs secure the subwoofer to blocks or anchors.'
The GSB Series subwoofers are also available in Hunter Green or Tan finish options.
Together with the existing JBL Control 80 Series 'mushroom-style' landscape loudspeakers (including the recently introduced Control 89MS Above Ground Subwoofer), the new JBL GSF Series and JBL GSB Series provide a comprehensive portfolio to suit numerous outdoor applications.
All models are available in the UK from UK distributor Sound Technology Ltd.