Void Acoustics is to add six products to its pro-audio catalogue including Arclite, a high-powered, arrayable point source loudspeaker designed to meet the demands of the touring industry. It is designed for pairing with the Arcline 218 and Arcline 118 subwoofers and offers scalability with maximum output and coherence, thereby delivering a true point source alternative to the Arcline 8.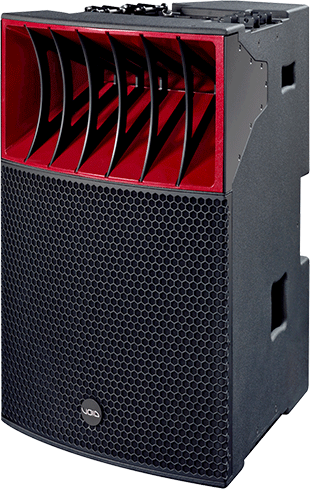 The Arclite is tailored for audio integrators and sound engineers and guarantees predictable behaviour even in the most demanding applications. Dispersion and sound pressure levels can be configured precisely to best serve any demands. Arclite's design also offers full summation up to 20kHz with no destructive interference, regardless of the number of enclosures incorporated in either a horizontal or vertical array.
The installation market is the focus for the new Air 15, an IP rated reflex-loaded 15-inch fibreglass subwoofer, complementing mid-high enclosures from both the Air and Cyclone series. Its large-scale output allows fully formed systems to be achieved in any environment. Air 15's non-resonant fibreglass enclosure contributes to its high SPL and low frequency extension capabilities. Key features include an IP-55 rating made possible by 'ingress proof vent technology' and UV-resilient paint, allowing Air 15 to perform in both internal and external spaces requiring comprehensive coverage.
Serving commercial and high-end residential projects, are the Cyclone 208, a 'powerful, yet discreet' double 8-inch subwoofer addition to the established IP-55 rated Cyclone series. Described by the team as 'the visual gem', its compact nature allows installation in listening environments where floor space is premium and for those desiring the highest levels of fidelity.
This is complemented by the Venu 208i subwoofer, a cost effective ultra-compact, self-powered double 8-inch addition to the Venu V2 Series. The Venu 208i can power up to four mid-high enclosures, including Void Acoustics' signature Cyclone 4, Cyclone 55 and Indigo 6 loudspeakers. It also benefits from built-in DSP for loudspeaker control and advanced signal processing capabilities, accessible via the rear Ethernet port. The Venu 208i is the perfect subwoofer for small venues such as cocktail bars, restaurants, and residential spaces; as well as a solution for medium-sized venues that are looking for a system to provide background audio.
A new, stand-alone amplifier called the Inca 500, offering space-saving, energy-efficient integration into commercial and residential projects including hospitality and hotel applications. This is a half rack width, 1U-high format power amplifier which can drive both conventional low impedance loudspeakers and high impedance transformer coupled loudspeakers. The Inca 500 also features an inbuilt preset library and it can be driven from a smart phone or computer for ease of control.
Finally, the Bias Q1.5 four-channel amplifier incorporates intelligent technology with a highly efficient micro-processor-controlled power supply. With an output power of 4 x 600W, Bias Q1.5 has entered the amplifier range as a solution for projects which demand a power requirement between the Bias Q1 and the Bias Q2. It also features built-in Power Factor correction for flawless operation as well as Powersoft's patented Smart Rails Management technology. It is ultra-reliable and energy efficient, perfect for multiple background and foreground music applications including beach bars, hotels, fitness, restaurants, nightclubs, retail and marine.
More: www.voidacoustics.com