KGear by K-array has expanded its GF family of ultra-compact column loudspeakers with the addition of the GF42 (4x 2-inch) and GF162 (16x 2-inch).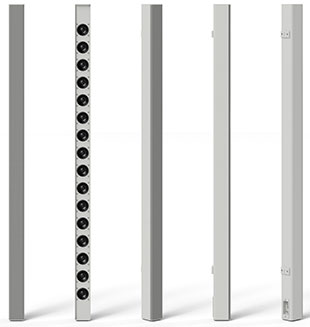 Both models feature the same two-inch drivers found in the existing GF22 and GF82 models, plus the same robust build quality and sound quality, while offering different throw and dispersion angle options.
Taking the versatility of the range a step further KGear has also announced the release of active versions of three models (GF22A, GF42A, GF82A) featuring a built-in amplifier with auto on/off and the possibility to drive a passive speaker, plus 70/100V versions (GF42T, GF82T, GF162T) for large-scale loudspeaker deployments.
The complete line (including GF82 and GF22) now uses a re-designed bracket system that offers greater flexibility of installation and a cleaner look; and finally, thanks to the new IP connector sealing cap accessories, all GF loudspeakers can now be used for outdoor applications. Suitable for any small to mid-sized venue in applications ranging from hospitality to corporate, retail and houses of worship.
More: https://kgear.it/en