K-array Group has announced the K-array Mk I Lyzard miniature loudspeaker range, a new model of the KScape Rail all-in-one sound and lighting solution and several new products from KGear, including new GF column loudspeakers and the GM44 analogue audio matrix, ahead of ISE 2023.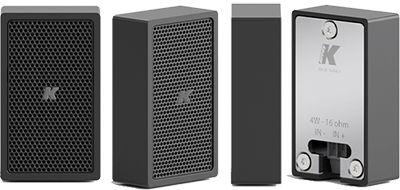 The Mark I Lyzard loudspeakers from K-array 'marry premium audio with stunning design'. Sporting a sleek miniaturised body, the result of exceptionally accurate aluminium millwork, Lyzards are designed for discreet use in a variety of intimate environments, such as retail, high-class restaurants, bars and museums.
No larger than a chocolate bar, the mid-high micro-loudspeaker range comprises the Lyzard-KZ1 I and Lyzard-KZ14 I, and is designed for high-quality sound and minimal visual impact. A new magnetic snap on/off grille offers a minimalist aesthetic and makes installation easy. For applications that require the audio to be completely invisible, the KZ1R I and KZ14R I versions have been designed for flush mounting into walls and ceilings. A wide range of colours and metal finishes ensure that all Lyzard models blend into any décor.
K-array's minimalist Azimut systems – which include the new Mk I Lyzards - have been updated with the latest version of the Kommander KA02 I miniature DSP amplifier, which offers all the same functionality as its larger siblings and is fully Dante-ready. New plug-ins allow seamless integration with all the major control systems including Crestron, Control4, Q-sys, and AMX.
New additions have also been made to both the Rumble and Thunder subwoofer ranges.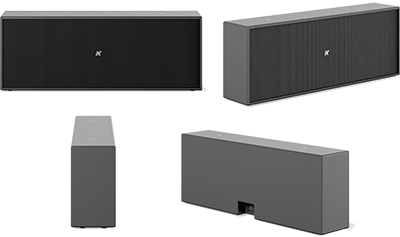 With its shallow profile, the Rumble-KU315 combines power and compactness, for applications where space and visual aesthetics are at a premium yet sound quality remains a high priority. The largest of the Rumble range, Rumble-KU315 is suitable for outdoor as well as indoor installation, there is also a marine version for especially challenging environments.
Also new is the Thunder-KSC12P infra-subwoofer for boutique and home cinema applications. With its pared-down dimensions, Thunder-KSC12P offers greater versatility for smaller spaces. Both Rumble and Thunder are now Dolby Atmos certified and feature in the DARDT Dolby ATMOS Room Design Tool.
More: www.k-array.com/en