Belgian manufacturer Audiofocus has announced the Cyris CX6 coaxial 6-inch loudspeaker and its companion C210S low-profile dual 10-inch subwoofer.
Able to deliver a peak SPL of 122.4dB, the Cyris CX6 is optimised for short-throw fixed installations and live events, and can serve as a fill cabinet in larger performance, conference and worship settings. Its cardioid design permits it to be positioned close to walls or corners without reflection problems, while a flared vent manages low frequency distortion. A mic stand insert and optional U-bracket allow it to be deployed according to the needs of a venue.
The C210S is a dual-vented band-pass subwoofer, housing a pair of high-specification 10-inch neodymium LF transducers and employing Tetracoil technology for maximum efficiency and a peak SPL of 126.5dB. With its low-profile design, it is a discreet option for hospitality and leisure installations as well as corporate A/V and live events.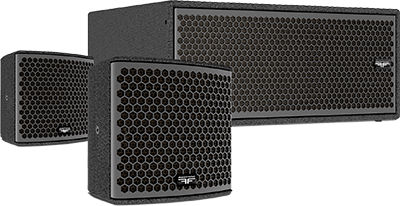 The C210S features an integral class-D amplifier with DSP, allowing it to power multiple CX6 speakers and cutting the need for external hardware.
'Thanks to some clever design choices, CX6 delivers far more power than industry-standard 5-inch loudspeakers, but its footprint is only fractionally larger,' says Audiofocus CEO, Ann Leroy. 'In our listening tests, customers have been blown away by the SPL and intelligibility we achieved with this tiny cabinet. By adding the low-profile C210S, we can now offer a plug-and-play full range PA package for smaller venues and events.'
The Cyris CX6 and C210S cabinets are constructed using high-grade birch plywood with a rugged polyurea coating, as are Audiofocus professional touring systems.
More: www.audiofocus.eu