Wharfedale Pro has announced a fixed installation loudspeaker series and new line array, as well as updates to its established loudspeakers.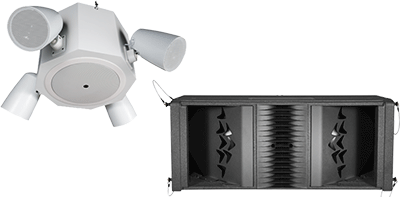 Intended for the hospitality sector, the IP56-certified Drone-G Pack passive installation loudspeakers is intended for outdoor use. Available in a range of colours and with ground spikes, it is specifically intended for discreet placement in a variety of environments. With both high and low-impedance models available, systems can be as large or as small as needed.
Another newcomer to the Wharfedale Pro range, the WLA-210A is a dual 10-inch active line array designed and engineered in the UK, that includes new acoustic features, including custom phase plugs and the Evo-Fold waveguide. 'The WLA-210A possesses all the technical detail required for serious fixed install or touring,' explains Wharfedale Pro Sales Director, Simon Godfrey.
The new 4-channel DP-4035i brings the DNA of the Wharfedale Pro DP series into a configuration for fixed installations. A tamper-proof front grille protects the channel volume controls, while rear panel connections, including GPIO, use Euro blocks to facilitate easy installation.
The all-new Programme-X passive loudspeaker series uses new drivers to offer improved SPLs alsongside refined physical dimensions. The updated Delta-AXF12 and AXF15 models now feature internal FIR filters which for independent control of magnitude and phase, more detailed equalisation and optimisation of frequency and power response, resulting in highly improved system performance overall.
Re-engineered by the Wharfedale Pro R&D team, the Delta-AX full-range models benefit from upgrades.
'The team is excited to unveil our new solutions at ISE 2023,' Godfrey says. 'Our development direction for several years has been to make things easier for our users, and this philosophy is especially reflected in our new Drone series – a family of interconnecting products to address the hospitality market. With our focus on the customer and a new range of active solutions for touring and fixed installation.'
More: www.wharfedalepro.com