AtlasIED has expanded its IPX Series of IP communication, and public address endpoints for use in educational institutions, healthcare ad industrial facilities, and corporate buildings.
The IPX Series offers a wide range of coverage options through a variety of IP endpoints designed to enhance an existing VoIP or SIP communications platform for routine and emergency use. With the introduction of the first outdoor-specific endpoint and the first Android phone console in the IPX family, integrators now have a single-brand, cohesive campus-wide communication system.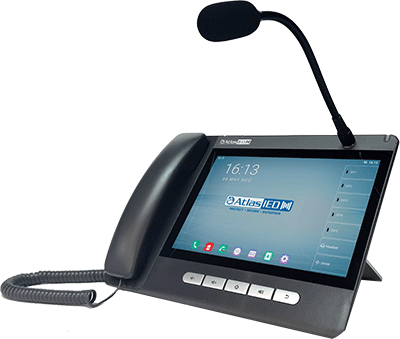 'We continue to expand our IPX line to bring the greatest level of variation possible to facilities seeking a fully fleshed out mass notification and emergency response system,' says Vice President of IP Endpoints, Alex Puorro. 'With the introduction of our new outdoor paging horn and touchscreen IP phone console, we offer a comprehensive, highly-reliable solution that facility safety and security professionals can rely on to meet their unique needs.'
The new IP-APX is an IP-56 rated, weather-resistant, constant directivity loudspeaker that features a high-output horn for clear, intelligible sound in any outdoor environment. The IP-APX can be wall- or pole-mounted to accommodate parking lots, athletic fields and other areas where day-to-day communications and critical emergency notifications must be delivered with highly intelligible audio quality and coverage. The paging horn registers as a communication endpoint directly within Singlewire's Informacast, AtlasIED's GCK and Syn-Apps' Revolution advanced notification applications.
The new AtlasIED IP-Console-GH is the first IPX endpoint to offer an Android phone from which users can deliver pre-recorded or live announcements by zone or throughout a building or campus. In addition to the handheld IP phone, the console features a 10-inch touchscreen interface and a gooseneck microphone. With the IP-Console-GH, administrators can send multicast messages directly to a facility's network of IPX speakers, offering intuitive messaging support for software such as Singlewire's Informacast. The console runs on the Android 9.0 operating system and supports both Bluetooth and WiFi.
More: www.atlasied.com