Alcons Audio has launched its first installation-specific pro-ribbon line-array – the LR18i pro-ribbon system.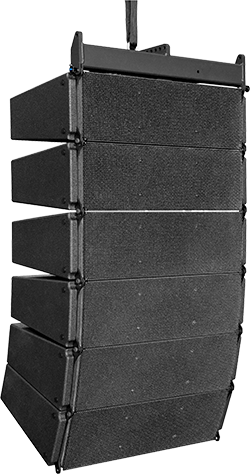 The three-way, compact-format system uses pro-ribbon technology for mid and high frequencies, providing a very fast impulse response with up to 90 per cent lower distortion than conventional drivers. This enables the LR18i to offer an intuitive linear response, with optimal intelligibility and non-compressed identical tonal balance at any SPL, with high gain-before-feedback performance.
The cylindrical wavefront of the proprietary Alcons RBN702rs 7-inch pro-ribbon transducer and the acoustically and electronically symmetrical component configuration generate a coherent pattern control in both the vertical as well as the horizontal plane, without any distortion-inducing horn constructions. The pro-ribbon's power handling of 1.5kW (200ms) provides an unlimited headroom for dynamic source material.
The RBN702 is coupled to a high-efficiency, horn-loaded 6.5-inch midrange transducer, coaxially mounted behind the HF driver; The LF section comprises reflex-loaded 8-inch woofers with oversized 3-inch voice-coil Neodymium motor-structure.
The LR18i is controlled by the Sentinel amplified loudspeaker controller with system-specific drive processing, including 'VHIR processing' offering phase-matching with any Alcons system and
Signal Integrity Sensing; SIS dynamically compensates cable length and amplifier impedance effects, resulting in a tight and accurate low and mid frequency reproduction (system damping factor 10.000).
In the vertical plane, the side-lobe free projection creates a perfect wavefront for long throw and system coherency up to frequencies beyond 20kHz, convincing by its performance in acoustically-challenging applications, like wind-stability or consistent reflected diffuse-field
'The LR18 line-array follows the design approaches of its larger siblings, the LR24 and the LR28 pro-ribbon line-arrays. We developed this symmetrical line-array as a full three-way system, where two-way is the general standard in this product category,' says Philip de Haan, Alcons' Head of R&D. 'We wanted to make the LR18's unique properties easier accessible for applications where mobility, flexibility and ease of quick set-up and strike was of less relevance. For this, we focused on simplifying the system down to the core performance , while maintaining the unique sound properties of the pro-ribbon line-array: WYMIWYG, What You Mix Is What You Get.'
The LR18i is available with a 90° (LR18/90i) or 120° (LR18/120i) horizontal dispersion. It can be combined with the LR18B fly/stack 18-inch subwoofer.
More: www.alconsaudio.com