Optimal Audio's Up 6O is a discreet 6-inchdesigned to deliver 'consistent coverage and crisp, clear sound' for use in a wide range of cost-conscious, commercial environments from hotels and building concourses to retail outlets, bars and restaurants.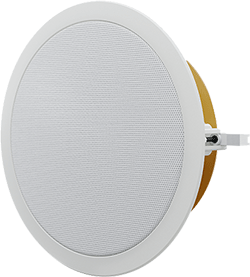 Up 6O is supplied without a back can for ceilings with a minimum cavity depth, while an integral fixing system is included to achieve a simple and clean installation. The steel perforated grille is finished in neutral white.
Up 6O features a 6-inch (162mm) low frequency driver paired with a 0.7-inch (20mm) metal dome tweeter. It is suitable for both high-quality speech and music reproduction. A conical 110° coverage pattern delivers consistent, high performance sound.
Each Up 6O can be run on a series of 70V or 100V taps or at low impedance. The 16Ω setting allows up to four units to be connected to each amplifier channel at low impedance. Tap selection is via a rotary switch behind the removable grille.
SmartAmps or Zone will provide optimal performance and loudspeaker protection. When coupled with the Zone series, a ZonePad and the WebApp makes setting up a system and end user control simple and intuitive.
Key features:
6-inch Coaxial Driver
Discreet size without back can
Unobtrusive Design
16Ω or 70/100V line operation
Wide Conical Coverage Pattern
Integrated Mounting Hardware
More: https://optimal-audio.co.uk/products/loudspeakers/up/up-6o