Ten models in the JBL Professional Control Series of ceiling loudspeakers have been authorised for use in Ease Address, free, publicly available electro-acoustic simulation software used for designing distributed ceiling loudspeaker systems.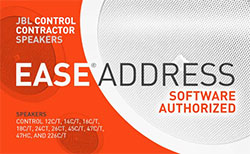 Provided by AFMG, Ease Address includes ceiling loudspeaker models from many manufacturers, allowing designers to select the loudspeaker needed for a project, determine quantities, tap settings and placement, and then document how the system is expected to perform.
The ten JBL Professional models that AFMG has authorised for use in Ease Address are the: Control 12C/T, Control 14C/T, Control 16C/T, Control 18C/T, Control 24CT, Control 26CT, Control 45CT, Control 47C/T, Control 47HC and Control 226C/T.
For those who already have Ease Address, the individual JBL files are posted on the Address site, as well as on each applicable JBL model webpage under the Downloads menu in the section named Ease Data.
For users who do not have Ease Address, a full copy of the no-charge program containing the JBL ceiling loudspeaker files is posted on each of the applicable JBL model web pages, located under the Downloads menu in the section named Ease Data.
'Ease Address and JBL's Distributed System Design (DSD) software are similar in many ways and some system designers prefer to use independent modelling software rather than a program that comes from a manufacturer,' says JBL Senior Product Manager for Commercial Installation Loudspeakers, Rick Kamlet.
'Address can provide some additional graphs (such as statistical distribution of SPL), while DSD includes all of JBL's ceiling loudspeakers plus some other form-factor models that can be used in ceiling-type distributed sound systems, such as pendants and symmetrical-coverage surface-mount loudspeakers.
'We have received authorisation from AFMG to include a cross-section of our blind-mount ceiling loudspeakers. These include our smallest Control 10 Series models, our core Control 20 Series models, Control 40 Series Constant Directivity loudspeakers, and up to our high-output Control 200 Series. This wide-ranging assortment allows system designers to select the JBL ceiling loudspeaker that provides the size, output level, and degree of pattern control that best meet the needs of the project.'
More: https://jblpro.com/en/support_downloads/download_types/easedatum