RCF Audio has added four loudspeakers to its Business Music Range – two multipurpose two-way in-ceiling models and two wall-mounted two-way loudspeakers – extending their use to a wider range of applications.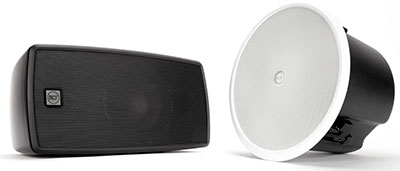 Designed for bars and restaurants, leisure hospitality, recreational facilities, theme parks, shopping malls and corporate spaces, the CMR and WMR loudspeakers offer elegant, discreet design and accurate details to pair with a building's aesthetic.
The high-quality transducers guarantee a faithful and precise music reproduction of the entire frequency band and provide high sound pressure levels for such a compact enclosure.
With a wide coverage angle, all models feature two transducers in a coaxial (CMR) or two-way configuration (WMR) with a bass-reflex cabinet design, capable of accommodating both speech and music reproduction.
Housed in a compact enclosure, they all feature Euroblock inputs, a line transformer for 70V-100V systems, and quick and easy installation. Each model has accessory options to increase flexibility and provides easy access to its power selector.
More: www.rcf.it