Alcons Audio's QRP20 is a two-way column array system with high-Q directivity to be used as vertical sound system in both permanent and portable applications. It is specifically designed for applications where high-fidelity ausio needs to be projected with wide horizontal and narrow vertical coverage, in acoustically challenging environments or applications where intelligibility-over-distance is required.
Loaded with the RBN401 4-inch pro-ribbon driver on a Morpher lens, the system claims a very high throw-efficiency and projection control, due to the pro-ribbon's all-natural cylindrical wavefront. Its transient response and high peak power handling (800W @ 200ms) offer high intelligibility from low to high SPL with a 1:15 RMS-to-peak dynamic range, while offering high gain-before-feedback.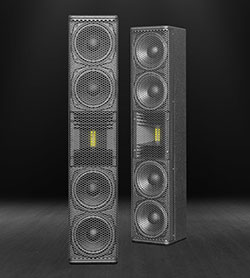 Due to the 'compression-less' principle of Alcons' pro-ribbon transducer technology, the system claims a linear response at any SPL. The RBN401 is mounted in a D'Appolito speaker configuration with the 4 5-inch woofers in a sealed cabinet. The custom 5-inch woofers feature Active Coil technology for extremely low-distortion LF reproduction.
The QRP's are powered and controlled by the ALC amplified loudspeaker controller. Through the integrated VHIR processing, audiophile amplifier stages and Signal Integrity Sensing feedback circuit, the ALC offers QRP20-specific drive processing.
'Following the success of our larger QR24 system, that uses this line-source wavefront coupling ability in a modular configuration, we received many requests for a smaller, non-modular single cabinet system, while maintaining the controlled projection characteristics. The result is the QRP20 point-source column,' says Philip de Haan, Alcons Head of R&D. 'The essence of the Q-series is the isophasic wavefront of our pro-ribbon mid/high frequency transducer technology, delivering the razor-sharp, side-lobe free projection control in the vertical plane and throw, the Q-series is known for.
'We've seen in many, typically acoustically challenging applications, that the necessity for controlling sound projection in order to get a satisfactory intelligibility leads to sacrifices on sound quality and dynamic output with existing solutions, either passive or steered. The QRP20 is proof that an exceptional, SPL independent intelligibility and throw is possible without any sacrifice on sound quality and performance, regardless of system size.'
The QRP20 is available in two versions with 90° (QRP20/90) and 120° (QRP20/120) horizontal dispersion and comes with Alcons Audio's six-year warranty.
More: www.qrseries.info