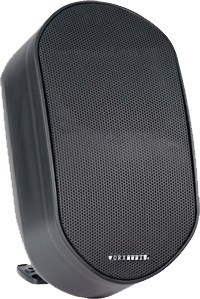 WorxAudio Technologies Armadillo-4 is a small-format, high-performance sound reinforcement system designed for foreground and background music applications in a wide range of settings, including restaurants/bars, retail environments, hotel lobbies, under balcony fill and corporate training/meeting spaces.
With its injection molded, high-impact polycarbonate enclosure, the Armadillo-4 may be installed indoors and outdoors, and is available in black or white. It ships with a mounting bracket with weather-resistant, stainless steel hardware for flexible aiming and easy installation.
Suited to use in 100V distributed audio systems; the Armadillo-4 has a multi-tap transformer configured for 50W, 25W, 12W and 5W settings. It can also be configured for standard low-impedance direct input.
The speaker uses a two high-output, 4-inch (101.6mm) LF transducers, and a horn-loaded HF wave-guide with a 1-inch driver incorporating a Titanium diaphragm positioned between them. Polar lobing is controlled by this geometry and produces a properly aimed response at crossover. The loudspeaker's frequency response covers 75Hz to 19kHz. The enclosure has push terminal connectors at the rear for easy system connection.
'The Armadillo-4 is WorxAudio's first injection-molded, surface-mount loudspeaker for use in 70V environments,' says Hugh Sarvis, WorxAudio Technologies' CEO and Director of Engineering. 'The loudspeaker considerably rounds out our product line – in addition to providing the small, medium, and large format enclosures for concert halls, theaters, and similar spaces, we can now provide a versatile, cost-effective SR solution for a building's lobby and secondary areas.'
More: www.worxaudio.com