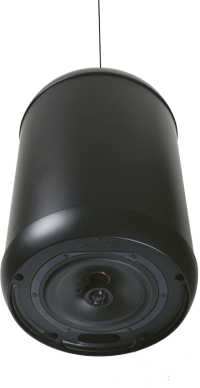 Using InfoComm 2011 in Orlando as its launch platform, Tannoy is ready to unveil a brand new range of 'open ceiling' hanging-pendant loudspeakers. Named the OCV Series, the new loudspeaker promises 'the renowned acoustic performance and exceptional value of the ubiquitous CVS Series in-ceiling products but in an architecturally sensitive, self-contained, lightweight cylindrical enclosure'.
Engineered for applications where predictable high-quality audio coverage is required in high or open-ceilinged spaces – such as airports, railway stations, malls or large double or triple height commercial floors – without compromising clarity, intelligibility and SPL. The cylindrical form-factor has been conceived to meet the demands of the architectural sector, minimising the impact on aesthetics and allowing the systems designer to locate the loudspeakers discretely – at any desired height without regard to physical ceiling height, and without conflicting with other suspended systems such as lighting and ventilation.
The OCV Series was also conceived to meet an increasingly critical demand from installers for a pendant-style loudspeaker that delivers a competitive performance advantage without being compromised by price – a crucial factor in the current climate of 'value engineered' projects.
Available in black or white as standard, the OCV 6 and OCV 8, OCV Series is a full-bandwidth open-ceiling speaker system. Each model is built around a mid-bass driver (150mm/6-inch or 200mm/8-inch respectively) with a coaxially-mounted 19mm/0.75-inch high-frequency section – all mounted in the cylindrical steel enclosure with mild steel powder coated grille. The mineral loaded polypropylene cone material and nitrile rubber surround of the driver assembly offers durability and long-term reliability, while the enclosure is IP54 rated for dust and water ingress, UV resistant – making it suitable for operating within high temperature and high humidity environments.
Both the OCV 6 and OCV 8 have a low insertion-loss 60W line transformer easily configurable via a top-mounted rotary tapping switch, while audio connection is via an adjacent euroblock connector. Both connector and tapping switch are protected by a rubber weather boot, which fits securely in place after connections has been made. Tannoy provides all the required hardware for hanging as standard, including steel wires, gripple speed clamp and 3/8-inch threaded rod adapter – making installation simple and time-efficient.
The OCV Series is expected to ship in August 2011.
More: www.tannoy.com/pro