Ashly Audio has added a 'Plus model' to its AW Series On-Wall loudspeaker line offering a higher power transformer for integrations in larger spaces.
'When our partners saw how versatile the AW Series On-Wall speaker line was at its price point, one of the requests we heard was if we could increase the output power of our 70 and 100 volt transformers, so we have done just that,' says VP of Marketing & Business Development,' Noel Larson. 'This will enable even more integration options for our partners using the extremely versatile AW line.'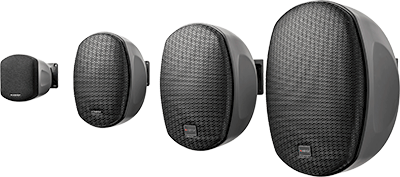 All AW loudspeakers are designed for the Ashly Audio ecosystem, and take advantage of Protēa and AquaControl DSP. Since its introduction in January 2020, the AW line has found use in schools, houses of worship, auditorium fill areas, exhibition spaces and hearing rooms. The AW line has also found a place in the integrator toolkit for offering competitive price points for pro audio systems in restaurants and bars.
The new model, which will be offered as AWT+, offers a power upgrade to make the loudspeakers more accessible for larger rooms, such as retail spaces, transportation centres, or noisy sports bars. The AW-5.2T+ is now available rated at 30W, 15W, 7.5W and 3.75W for 70V use, and at 60W, 30W, 15W and 7.5W at 100V. The AW-8.2T+ is available at 60W, 30W, 1W5 and 7.5W for 70V, and at 60W, 30W and 15W at 100V.
A Directivity Optimized Crossover in the AW design reduces the off-axis deviation in sound pressure levels to <9dB, providing a wider 'sweet spot' in both established models and the AW-5.2T+ and AW-8.2T+, which are also IP54 rated for use in outdoor applicatons.
'We remain focused on offering complete solutions that make use of Ashly's expertise in professional sound,' Larson says. 'Adding more capabilities to our speaker offerings means our partners can win more business. We want them to have flexible options so they can be competitive with their bids, no matter the project type or size.'
More: www.ashly.com/aw_series