The RCF Compact M 04 is a multipurpose two-way full-range coaxial loudspeaker system, suitable for a wide range of applications.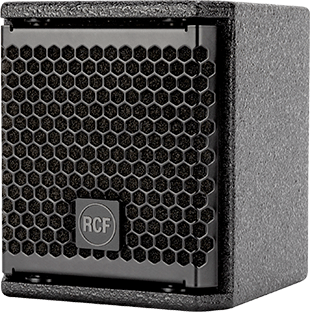 The M 04's high sensitivity, is due to the use of oversized magnets, resulting in a 'smooth and wide' frequency response and 'a supreme audio experience' in any application, from restaurant and retail shops to clubs, corporate spaces and venues.
'The SPL level of low-distortion audio the M 04 can provide goes far beyond expectations of such a compact solution,' the company says. 'The elegant and compact design with accurate finishing makes M 04 suitable for almost any environment, even with architectural constraints.'
The design features a 1-inch dome tweeter with 1-inch voice coli, accompanied by a 4-inch LF driver, also with a 1-inch voice coil. Included wall-mount bracket allow the use of the M 04 on wall or ceiling installations.
Key features:
60W AES/120W programme power handling.
113dB SPL (max).
90Hz-20kHZ frequesncy response.
120° x 120° constant directivity coverage.
Dimensions: 132mm x 148mm x 145mm (w x h x d).
Weight: 2.3kg.
More: www.rcf.it