Amate Audio has announced the T-G7 module to enable ready conversion of its all-new G7 Commercial Audio loudspeaker from low impedance to 100V line level operation.
Switching the connector plates allows either low-impedance or 100 V line operation using the same stock unit, with the T-G7 adding transformer circuitry and a facia mounted selector switch for 5W, 10W, 20W, 40W and 100V line settings, or a switch back to 'Direct' 16Ω operation, and can be fitted in the field in minutes.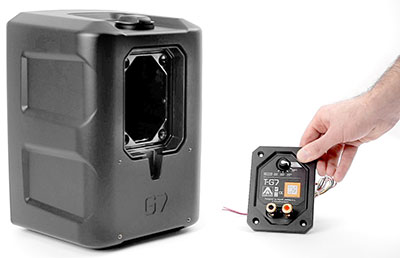 'This design feature reduces potential waste, eliminating the need for redundant circuitry and associated additional weight in facilitating optional 100 V line operation,' the company says. 'Additionally, it offers contractors efficiencies in providing all modes of installation from a single stock holding. The design also contributes significant economies of scale in production.'
A ground-up, in-house development, the G7 is a dedicated Commercial Audio injection-mould compact design, reckoned to match or exceed performance levels of larger wood cabinet loudspeakers. Its hexagonal, EN54-24, reinforced ABS plastic enclosure offers continuous programme power handling and output of120W and 112dB SP, requiring fewer cabinets to provide coverage in an installation, and a full-frequency response means sub bass reinforcement is an option not a necessity.
The cabinet houses a proprietary 6.5-inch carbon-fibre woofer with claimed performance characteristics equivalent to an 8-inch driver, matched with a 1-inch titanium dome, neodymium tweeter. Premium components and engineering throughout extends to the aluminium grille and hardware, integrated mounts for the U-bracket wall-mount, recessed connector panel with protective cover, and all-round outdoor-ready construction.
'We could not come to this market with a similar looking equivalent product, to that already in considerable over supply from far eastern manufacturers,' says Commercial Audio Head of Sales, Jordi Amate. 'In G7 we have something else, something more. Something that ultimately allows installers to offer a better customer experience. And that, for sure, represents the highest quality and performance to price ratio achieved with a plastic cabinet.'
More: www.amateaudio.com