Claiming 'superior audio coverage' for large arenas and outdoor stadium installations, RCF has released the HVL Series of modular and scalable loudspeakers.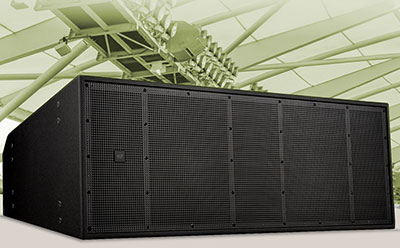 Originally designed for American football stadia, the weather-proof HVL Series is now available to the market offering a modular and scalable system for large venues and events promising efficiency and sound quality over long distances.
The HVL cabinet combines six RCF neodymium Precision Transducers in a symmetrical, horn-loaded configuration. 'With in-house transducers' design and manufacturing for no-compromise performances, the HVL Series excels in any comparison,' the company says. 'All transducers feature state-of-the art neodymium magnetic circuits, radically new voice coil ventilation systems, and ground-breaking voice coil assemblies.'
HVL systems are also intended to reduce the commissioning time on projects through their 'modular array-ability', multiple directivity indexes (Q), and small footprint in comparison to power. HVL also reckons to lower overall system costs by delivering full coverage with fewer modules precisely matching the audience area.
HVL 15 cabinets are loaded with a pair of 15-inch drivers at the low-end, a pair of 10-inch midrange drivers, and two titanium dome compression drivers with four-inch voice coils at the top. All of the transducers feature neodymium magnets. With a frequency response of 43Hz–18kHz (-10 dB), these three-way, long-throw boxes are driven in bi-amped mode and are capable of producing a maximum SPL of 133dB (LF) and 145dB (MHF). Two coverage options available: 90° x 30° (L) and 60° x 30° (P) and one bass module (S).
See also:
Paul Brown Stadium Revamp
More: www.rcf.it