Pioneer Professional Audio has extended its Commercial Monitor (CM) Series of loudspeakers with the 10-inch CM-510ST subwoofer, the IP54-rated 4-inch CM-S54T, 6-inch CM-S56T and 8-inch CM-S58T.
'Since we launched the XY Series loudspeakers, installers have told us they'd like to see smaller speakers added to our range to enable turnkey installations at a wider variety of venues,' the company says. 'Nightclubs, bars, shops, offices, hotels and restaurants are just some of the environments where more discreet boxes are needed. And, in areas such as corridors, bathrooms and VIP zones, nightclub installations also often require sound in tight spaces where large units are unnecessary or can't be accommodated.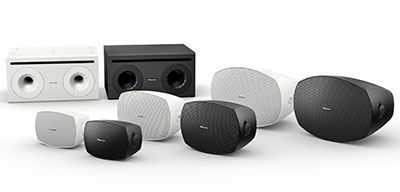 The two-way CM-S54T, CM-S56T and CM-S58T, and the Kelton-configured CM-510ST subwoofer are available in black or white finish for discreet installation in a variety of spaces where reliability is essential The loudspeakers can also be used for some applications outdoors. The 'affordable and adaptable' arrivals in the CM Series include features including transformer taps.
The speakers can be controlled by Powersoft's recently released ArmoníaPlus 2.0 software for assembling systems in simple, effective ways as it eliminates the need for an external matrix and reduces the number of cable runs in many applications. Everything can be easily controlled via a mobile app that can be used to adjust the sound in different zones.
More: www.pioneerproaudio.com