Alcons has expanded its CRMSC line of cinema sound loudspeakers with the CRMS-SRIW/120, developed as an ultra-compact reference main/screen system, or compact surround system in immersive sound-for-picture applications. It can also be used as full-range sound system in any installed audio application, where a high-quality sound reproduction with inconspicuous in-wall or on-wall mounting is required.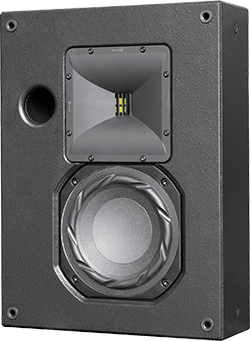 'One of the strongest and continuously returning requests we have been receiving from the customers and installers on the CRMS series, has been minimal cabinet depth,' says Alcons Audio R&D, Philip de Haan. 'The new waveguide we've developed, enables us to minimise cabinet depth to 100mm/3.9-in fitting in typical "2-x-4" wall constructions, while maintaining full projection control up to and beyond 20kHz, which is unique with ribbon line-source transducers.'
Targetting auditoria, performing arts theatres, screening rooms, postproduction facilities and dubbing stages, premium home cinemas and quality-conscious cinemas, the CRMSC-SRIW/120uses identical MHF components to other loudspeakers in the range for perfect voicing matching between screen and surround systems. Featuring the Alcons pro-ribbon transducer technology, the CRMSC-SRIW/120 surround combines an exceptional clarity and intelligibility with an unusually high dynamic range, offering the most realistic linear sound reproduction possible at any SPL.
The two-way passive-filtered CRMSC-SRIW/120 system consists of the RBN202 pro-ribbon driver for HF and a vented 6.5-inch mid-bass for LF reproduction; the HF section has a 500W peak power input, enabling a 1:16 dynamic range with up to 90 per cent less distortion from 1kHz to beyond 20 kHz. The 120° and 90° dispersion up to the highest frequencies not only offers a very wide and coherent direct-field coverage throughout the listening space; it also guarantees a consistent reflected diffuse-field response.
The CRMS-SRIW/120 low-frequency section is tuned for a usable frequency response down to 53Hz, enabling a smooth transition with additional LFE subwoofer systems.
The Signal Integrity Sensing pre-wiring ensures complete cable/connector compensation between the CRMSC-SRIW/120 and the ALC amplified loudspeaker controller, the dedicated drive-engine; together with VHIR processing, SIS significantly increases response accuracy, regardless of cable length and system impedance.
In addition to the ultra-shallow depth, the CRMSC-SRIW/120 also features a revolvable RBN waveguide, optional cloth grille and ACO Architect Color Option in 180+ RAL colour schemes for easy, inconspicuous in-wall or on-wall mounting. As a result of Alcons' tight manufacturing standards, all CRMSC system cabinets are well within 'matched pair' tolerance, for a reference studio-grade response.
Morr: www.crms.info