The new CS212L subwoofer incorporates Fulcrum Acoustic's proprietary Passive Cardioid Technology to tame excessive rear LF radiation without the need for an additional amplifier channel.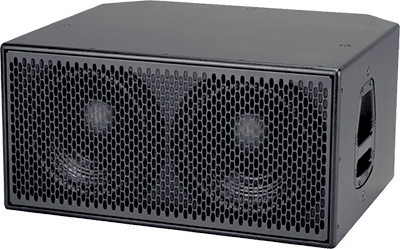 The CS212L is a low-profile, dual 12-inch subcardioid subwoofer module intended for permanent installation in a wide range of venues. Its, high-power transducers provide low-frequency impact and musicality, while 12 M10 mounting points facilitate either horizontal or vertical overhead suspension. Four vibration isolation feet prevent spurious vibrations and 'walking' in horizontal groundstack applications.
The CS212L's subcardioid behaviour is produced by an acoustical circuit which balances the position of the low frequency driver, the enclosure depth and volume, and rear-mounted ports which include a calibrated resistive element. By opting for a subcardioid pattern as opposed to a pure, hyper or super cardioid pattern, the rear rejection increases when the modules are deployed in a subwoofer array.
Fulcrum Acoustic's TQ processing is an integral part of the CS212L design. Sound, acoustical design combined with digital processing leads to exceptional clarity and precise transient response, even at very high sound pressure levels. The required digital signal processing can be provided by one of many supported platforms.
Key features:
Single- or aual-amplified operation with DSP.
36Hz to 156Hz bandwidth.
Two 12-inch drivers with 4-inch voice coil and ceramic magnet.
1.4kWW power handling @ 4Ω.
134dB/128dB equalised max SPL (peak/continuous; half space).
More: www.fulcrum-acoustic.com