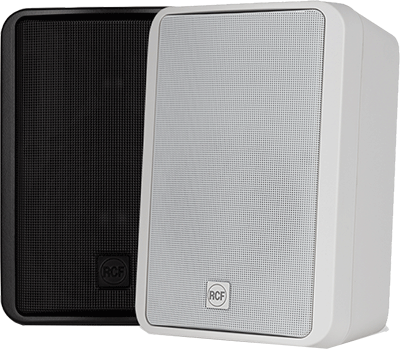 Housed in self-extinguishing plastic, the new MR series of two-way, bass reflex loudspeakers from RCF is designed for all A/V applications – bars and restaurants, leisure hospitality, recreational facilities, theme parks, shopping malls and audio monitoring – both indoors and out.
All models use purpose-designed 1-inch voice coil woofers and 0.8-inch voice coil dome tweeters, combined with RCF's Low Inductance Compensated Crossover (LICC), and offer high power output and full bandwidth.
MR series loudspeakers are housed in self-extinguishing plastic for fixed installations where speakers should blend in with décor. Quality components and careful acoustic design make the MR series suited to both speech and music reproduction in any business and A/V application.
To accommodate wide usage requirements, RCF has eight models on offer – with different sizes and power handling, both with and without line transformers, and available in black or white.
MR series loudspeakers are sold in pairs, with included swivel bracket and optional horizontal bracket.
More: www.rcf.it