The smallest loudspeaker designs in the company's 40-year history, the ID14 and S108 sub-bass partner are the latest additions to Nexo's ID Series of high-power compact cabinets. Like the larger ID24, the ID14 is lightweight, versatile and weather resistant.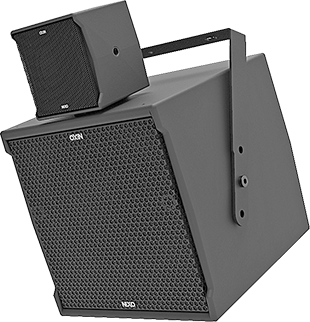 Made entirely in France, the ID14 is a 5-inch Polyurethane enclosure containing a single driver capable of 116dB (peak) with a frequency response of 120Hz-20kHz. Measuring 130mm x 130mm x 120mm, and weighing in at 1.7kg, the dual concentric design features a coaxial 4-inch LF driver with 1.3-inch voice coil, and a 1.4-inch diaphragm for the HF. ID14 is offered with two directivity options – a 100° x 100° horn as standard, with an asymmetric alternative offering 90° x 140° dispersion.
This super-compact speaker provides an extremely powerful point source that can be used standalone or in a distributed system, for front fill, infill or delay. Available in black, white or any RAL colour, ID14 is intended to have particular appeal to the installation sector for use in historic buildings, or venues with a need for unobtrusive high-power performance, such as houses of worship, airports, hotels and hospitality. The ID14 is also expected to prove useful in surround sound and FX applications.
There are two versions of the ID14, which share the same acoustic components. The Installation version features an acoustic fabric fitted front grille, and there is a cable gland with twin-core cable for audio input, offering IP55 protection. The Touring version of the ID14 uses a Magnelis steel grille and two rear panel Speakon connectors.
The ID S108 is a purpose-designed companion sub-bass box for the ID14, creating an extremely compact high-power three-way system, ideal for small clubs and bars. Using a high-efficiency bass reflex design, the ID S108 features a long excursion 8-inch Neodymium driver precisely tuned to match the frequency response of the ID14. Like the ID14, the ID S108 is available in touring or installation versions, in black, white or custom colours.
There is a comprehensive range of accessories to allow use of the ID14 in a wide variety of applications – it has a dedicated U bracket, but it can also be installed on a microphone stand while the rear of the speaker offers two M6 inserts (73mm pitch) for Nexo wall-mount applications. Because ID14 has a fully symmetric design, there are no left or right versions; every unit in rental inventory can be the same.
The recommended amplification solution is the NXAmp4x1Mk2 Powered TDController, which can power up to 4x ID14s per channel. A dedicated set-up for each directivity pattern is available on the NXAmp. Additionally, the DTDAMP4x0.7, paired with a DTD controller, can power up to two ID14s per channel.
More: www.nexo.fr