US company Sutherland A/V Marketing has announced the availability of Architecttura SonoraArchitecttura Sonora line of outdoor landscape loudspeakers.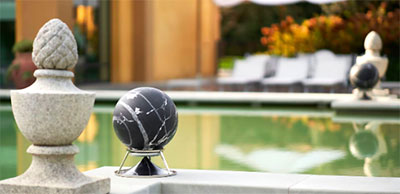 Italian company Architettura Sonora claims that the company 'revolves around a creative team of acousticians, engineers, architects and landscape designers sharing the enthusiasm to radically redesign the experience of space and landscape through a meaningful and more emotionally charged sound diffusion'.
Each loudspeaker is individually produced by craftsmen as a unique piece of sound art, offering advanced sound, combined with innovative and expressive design.
Available in a wide range of materials and finish, the Sphere omnidirectional full-range loudspeaker or subwoofer is available with two different options for the base design, adapts to any type of environment.
The Medium Cylinder loudspeaker is designed for 'when integration and harmony with landscape and architecture is important as much as the high-quality of sound'.
Architecttura Sonora also produces a number of interior design loudspeakers.