JBL has announced the Cinema Expansion Series of commercial cinema sound solutions, comprising the model 3153 and 4253 three-way screen-channel loudspeakers, 3181F and 4281F subwoofers, and 8102 surrounds.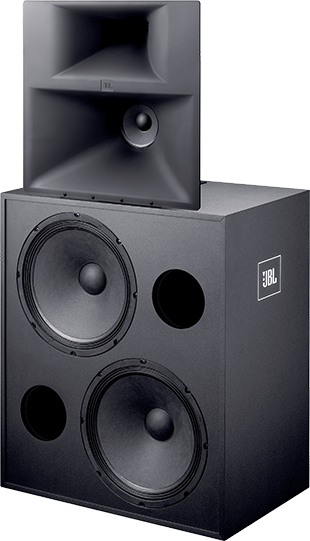 The Cinema Expansion Series is designed for high SPLs in rooms of up to 85ft (26m) deep and up to 40ft (12m) wide. They are loaded with JBL drivers engineered to deliver maximum output with minimal distortion, and use proprietary JBL waveguides to consistent, symmetrical coverage. Innovative features simplify deployment and operation, from conveniently accessible connections to rigging systems that allow configurations for a variety of installations, including Dolby Atmos and DTS:X.
The JBL 3153 and 4253 three-way Screen-Channel Loudspeakers provide symmetrical 90° x 50° full-range coverage, operate in passive or bi-amp mode and incorporate built-in crossover networks and transducer protection circuitry. The single 15-inch, 460W-rated JBL 3153 delivers 134dB peak SPL and covers rooms up to 45ft (14m) deep; while the dual 15-inch (380mm), 800W-rated 4253 delivers 138dB peak SPL and covers rooms up to 85ft (25m) deep. Both models operate at 4Ω impedance, allowing them to be powered by Crown XLC Series amplifiers, and feature enclosure-top binding-post connectors to simplify wiring and save space behind the screen.
The JBL 8102 Surround is a 10-inch (250mm), two-way, 260W 8102 surround speaker providing 110° x 90° full-range coverage, with a peak SPL of 125dB and a throw capability of 40ft (12m). It operates at 8Ω impedance, allowing multiple surround speakers to be wired to a single amplifier channel. The 8102's wide coverage and high SPL output means fewer surrounds are needed in an array. The cabinet features a 20° down-angled front baffle for improved coverage; enclosure-top input terminals; and mounting that is compatible with JBL QuickMount, Omnimount and APC Multimount brackets.
The JBL 3181F and 4281F Subwoofers are designed to complement the Cinema Expansion Series screen speakers with powerful low-end coverage in the 30–500 Hz range. The single 18-inch (455mm), 650W 3181F delivers 132dB peak SPL, while the double 18-inch (455mm), 1.6kW 4281F delivers 139dB peak SPL and features 4-pin connectors that allow the two transducers to be driven separately (discrete mode) or together (parallel mode). Subwoofers are housed in shallow, 15-inch (355mm)-deep cabinets with enclosure-top connectors that preserve minimum depth. Both subwoofers operate in 4Ω mode, enabling them to be driven with any Crown XLC Series amplifier. Built-in rigging points facilitate hanging for installations such as Dolby Atmos and DTS:X.

The accompanying two-channel Crown XLC 21300 is the most powerful model in the XLC Series of professional cinema amps, delivering 1.3kW per channel at 4Ω and able to it power subwoofers at both 8Ω and 4Ω loads. The XLC 21300 supports parallel, input Y and bridged-mono-output modes for versatile configuration; front-panel indicators display signal and amplifier status.
The JBL Cinema Expansion Series will be available in Q2, 2020: 3153 and 4253 screen-channel speakers and the 8102 surround are available in all regions except North America and Central America; 3181F and 4281F subwoofers and the Crown XLX 21300 are available worldwide.
More: https://jblpro.com