EM Acoustics has unveiled the flagship model of a new loudspeaker series – the R10 is a three-way passive system featuring dual 10-inch LF drivers and a 4-inch/2.5-inch mid-hi coaxial unit. Coupled with EM Acoustics' DQ Series amplifiers, the Reference Series promises high performance in a compact form factor.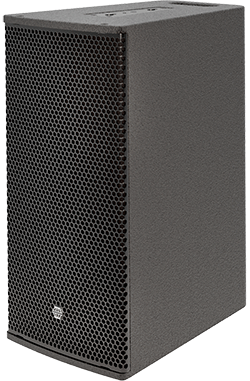 Born of a strong theatre tradition, the company regards the Reference Series as 'a breed of low profile, ultra-high quality full range point source loudspeakers possessing extraordinarily flat frequency and phase responses'.
Suited to any performance environment requiring ultra-high quality sound reinforcement in a versatile, low profile package, the R10 is housed in an optimally tuned enclosure that draws on the DNA of the Halo Series, the R10 is unique in that it is supplied with two easily interchangeable dispersion waveguide options; a wide 110° x 50° guide for shorter throw applications and a narrower 80° x 50° option for controlled coverage over longer distances. Both are rotatable for maximum versatility and offer extensive pattern control to below 800Hz. To ensure compatibility with the full EM Acoustics portfolio, the R10 – along with the rest of the Reference Series loudspeakers – is voiced with the natural, flat characteristics for which the company is globally renowned.
A sleek, weather-protected polyurethane finish and tour-optimised, human-friendly handling and rigging systems complete the package. The architecture and construction of the R10 combined with EM Acoustics' state-of-the-art FIR processing liberates each component to achieve levels of sonic performance never yet achieved from a box of this size and form.
More: www.emacoustics.co.uk