APG Audio has announced its iX series of fixed installation loudspeakers.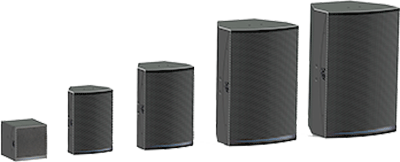 Based on coaxial driver alignment, the iX range uses a combination of drivers and a non-diffraction acoustic baffling for point source directivity. In some of the iX models, APG has created coaxial devices that strike a perfect physical alignment between low and HF transducers.
The iX Series comprises five coaxial models – the iX5, iX6, iX8, iX12 and iX15 are two-way designs with bass-reflex loading for low-frequency extension. From an acoustic point of view, the iX range offers stunning musicality down to low mid and even low frequencies and is characterised by an impressive SPL to size ratio and exceptional sound clarity.
The loudspeakers are suited to a variety of applications, including main FOH or distributed sound reinforcement (front fill, out fill, in fill, under balcony, delay lines) in all types of venues (theatres, concert venues, clubs, bars, restaurants, conference rooms and congress centres). It is also possible to combine iX speakers with APG's Uniline and Uniline Compact systems.
All iX models have been ergonomically optimised to make them as compact as possible, with smart accessories for discrete installation, customisable colours and a weatherproof finish. All iX speakers are compatible with APG's SB subwoofers, while the company provides all standard processor settings of APG electronics and customised settings for other brands such as Powersoft.
'This line has been tested extensively by APG users,' says APG Sales & Marketing Director, Gregory Dapsanse. 'We have already received a number of orders for spatialised sound applications, as well as from our distributors in China and Korea.'
The iX5 is a miniature, two-way full range and passive loudspeaker fitted with a 5-inch long excursion LF driver and a coaxial dome tweeter (120° conical dispersion). The iX5 is characterised by its sound quality, which is close to the best studio monitors. The iX6 is fitted with a 6.5-inch driver loaded in a bass-reflex while HF is handled by a coaxial dome tweeter (105° conical acoustic opening). It offers clear and precise sound reproduction of mid/high frequencies up to 20kHz. The iX8 features a coaxial device fitted with 8-inch cone driver and independent HF compression driver. The coaxial mounting offers perfect acoustic dispersion with a homogenous dispersion coverage of 110°. The iX12 is a two-way, full-range compact loudspeaker fitted with a coaxial coupling of 12-inch and a 1-inch HF compression driver (filtered). The non-diffraction baffling creates a coherent acoustic field with a conical dispersion of 100° and a minimal feedback effect of 4dB. The iX15 is a two-way full range speaker fitted with 15-inch neodymium driver including a forced thermal ventilation system and a 1.4-inch neodymium HF compression driver. This results in an exceptional sound pressure capacity down to 60Hz and up to 19kHz.
APG also has two pseudo-coaxial loudspeakers planned – the iX2.5 and IX2.6, optimised for vocal reinforcement.
More: www.apg.audio