L-Acoustics Creations has announced a sound space solution for use in luxury residential and architectural installations. Island Prestige is a completely self-contained, personal auditorium that offers a versatile approach to media room design with very high quality audio.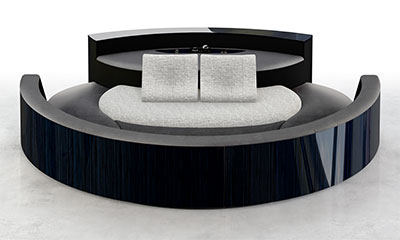 'Island is unprecedented,' says President and founder Christian Heil, the creative force behind Island Prestige. 'This is not just another loudspeaker. We have designed innovative lifestyle packages that enable specification of a remarkable media environment, inviting listeners inside the music. They can share the hyperreal panorama of an orchestra conductor, a musician on stage with a band, a concert pianist at the keyboard, or the fast-paced action of a film.
'Reclining in the sumptuous comfort afforded by Island Prestige, users simply close their eyes and they are right there, fully immersed, and as close to an authentic experience as they can possibly be.'
L-Acoustics Creations parent company has lent its live sound know-how and high-performance innovation to this new application. Island Prestige features 13 front speakers, five rear speakers and two subwoofers, manufactured and aligned to deliver 'accurate, richly detailed audio to listeners relaxing in its central lounge area'. Overhead speakers can be added, where required.
The system can reproduce the proprietary BluSpace standard, matching human hearing spatial resolution and bringing full, live concert dynamics at all audible frequencies. In total, 20kW of power creates ample headroom for distortion-free play at high SPL, making Island Prestige suitable for all media playback needs, from conventional stereo to Dolby Atmos cinema to ultra-realistic Bubbles music and sound art content in Immersive Hyperreal Sound.
In tended for open-plan living spaces, unusually shaped media rooms or as an alternative to in-wall speaker installation, Island Prestige is a modular, plug-and-play solution that's quick and easy to assemble, without the need for any additional room treatment. It can operate as a stand-alone personal auditorium, with its own Bubble Deck controls, or can be integrated with projector, screen, lighting, blinds and other home technologies as part of a whole house control system.
The Bubble Deck is designed to host and display limited numbered edition Bubbles recordings certified in the BluSpace standard. It provides convenient, intuitive control of essential player functions, such as volume, pause and skip. At the push of a button, Island Prestige can also be rotated 360° in either direction to suit multiple use scenarios, from facing a home cinema screen to enjoying sunlight streaming into the room to enhanced privacy for meditation and mindfulness.
All audio and control components are discreetly housed within the clean, contemporary panelling of the Island Prestige auditorium. Two high-gloss lacquer exterior wood veneer are available to suit user tastes whilst the ergonomically designed seating area includes adjustable lounge elements and back rests to maximise indulgence and well-being. As an additional benefit, the seating can be removed entirely to create additional space, if required. The outer shell of Island Prestige is upholstered with a light layer of padding to create an inviting softness that doubles as a seating area and completes the superior aesthetic.