Amate Audio's new Nítid PR series loudspeakers reckon to maintain the compact form factor and signature sound quality of their higher-power siblings, but with lower power specifications, and offering cost savings to medium- to smaller-sized venues and applications. The N12PR, N15PR and N18WPR all feature high performance design engineering and high-end Polyurea finished, durable birch-ply construction.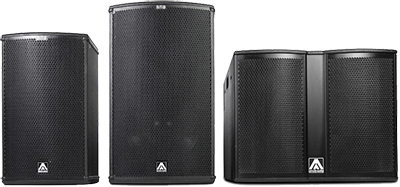 In the case of the N12PR and N15PR, this includes the asymmetrical trapezoidal form factor that enables the cabinets to be deployed (stacked or pole mounted) as point source main PA, or horizontally in floor monitor mode, and asymmetrical rotational horn.
'PR' models promise power-handling capabilities higher than required for the vast majority of musical entertainment venues, ensuring high-quality signal reproduction and ample headroom. The N12PR and N15PR two-way full-range systems boast continuous musical programme ratings of 400W and 800W, respectively, and similarly high continuous maximum SPL outputs of 123dB and 128dB.
The N18WPR is a versatile, lightweight, highly compact 18-inch sub. The bass-reflex, tuned laminar ported cabinet optimises performance of a 4-inch voice coil 18-inch driver. Maximum power handling is rated at 2kW continuous music programme and 1kW RMS. Continuous maximum SPL is rated at 130dB.
With its compact enclosure weighing under 50kg and with M6 points (for KR-18T flying hardware), the N18WPR is easily transported and deployed. Dedicated loudspeaker management presets for the N18WPR are available on the LMS206 processor and TPD processor amplifier.
More: www.amateaudio.com