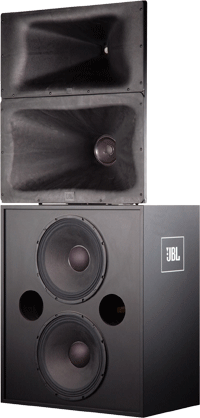 Adding to its ScreenArray cinema loudspeaker line, JBL Professional is using the CinemaCon show to introduce the 3730 three-way ScreenArray loudspeaker – a cost-effective speaker for small- to medium-sized theatres using the technology found in all JBL ScreenArray systems.
The 3730 ScreenArray system uses a single-driver, full-size midrange horn with a 165mm (6.5-inch) cone transducer, and JBL's patented high-frequency horn with Screen Spreading Compensation (SSC), which corrects the spread of high-frequency information through perforated screens, and which provides the ScreenArray system with an asymmetrical coverage pattern 10° down from horizontal for uniform sound in every seat in stadium-type auditoriums.
The 3730 ScreenArray loudspeaker features a selectable bi-amp or fully passive switchable crossover and a high-frequency, polymer diaphragm, neodymium compression driver for maximum output. The low-frequency section has dual 380mm (15-inch) transducers with ribbon wire voice coils for low distortion and high efficiency.
'Our ScreenArray loudspeaker series has continued to set the standard for cinema systems and the new 3730 enables even more venues to take advantage of JBL's unmatched performance," says Chuck Goodsell, Director of Cinema at JBL Professional. 'The cost-effective 3730 further reinforces JBL Professional's ability to provide scalable solutions across a spectrum of venue sizes and price points.'
More: www.jblpro.com